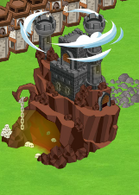 Name: Monster Breeding Nest
Life: 5000
Attack: 0
Attack Delay: 0
Unit Speed: 0
Monsters Available: King Kong, T-Rex, Tiger Spider, Giant Viper .
Notes: It takes 72 hours to breed all monsters (8 hours per phase, 10 phases per monster.)
Ad blocker interference detected!
Wikia is a free-to-use site that makes money from advertising. We have a modified experience for viewers using ad blockers

Wikia is not accessible if you've made further modifications. Remove the custom ad blocker rule(s) and the page will load as expected.