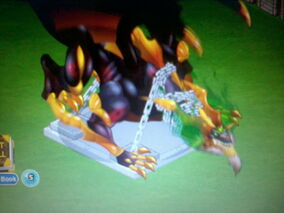 Troop Name: Hellborn Ancient Dragon
Health: 8600
Attack: 202
Description: Came from the Abyss, the Hellborn Ancient Dragon will devastate the whole world.
Note: This is an offer on June 15-16 2013. Can be obtained if you purchase this offer.
Conversion Seal
Poison Roulette
Venom Explosion
Hellborn Ancient Draggy
Limit (with rider): Green Lightning. Summons lightning strikes to surrounding enemies.
Ad blocker interference detected!
Wikia is a free-to-use site that makes money from advertising. We have a modified experience for viewers using ad blockers

Wikia is not accessible if you've made further modifications. Remove the custom ad blocker rule(s) and the page will load as expected.